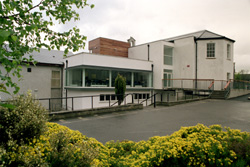 Community Centre  
The Community Centre is situated in the church grounds and can be accessed from the car parks at North Avenue or The Rise. It was officially opened by President Mary McAleese on 16 May 2003. 
The centre is used for a variety of parish activities and provides accommodation for clubs, societies, recreational activities, a Montessori school, an after-school centre, and exercise and dance classes. In all, more than 1,000 people use the centre on a regular basis each week. 
The Coffee Dock at the centre is staffed by volunteers and is open from 10.00 a.m. to 12 noon, Monday to Friday. Additional volunteers are most welcome – contact the co-ordinators Mary da Paor and Margaret O'Gorman or the centre manager.
An up-to-date list of Community Centre activities is available on the notice-board at the centre. Among these are: 
Mount Merrion Friendship Club: operates three days a week, catering for ladies on Wednesdays and Fridays, and for men on Thursdays. The main purpose is to offer senior citizens a social day out; refreshments and a full lunch are served and transport is provided. The club caters for residents of Mount Merrion and some of the surrounding areas.
Manager: Mary Bartley, phone 2884411, Wednesday to Friday, 9.00 a.m. to 3.00 p.m. Outside these hours, an answering service is available.
The Mount Merrion Active Retirement Association: provides a range of activities for retired members of the community
Contact: Eileen Kane
The Mount Merrion Historical Society: organizes regular lectures on topics of local and historical interest
Contact: Sheila Hughes
For general enquiries or to make a reservation at the Community Centre, contact the manager, Mary Flynn, who is available at the centre most mornings during the week. Alternatively, telephone 2884485, or leave a message and Mary will contact you.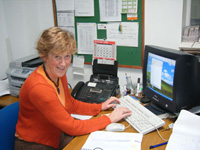 Mary Flynn: Centre Manager.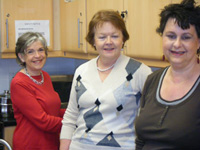 Mary Bartley (r) and helpers
at the Friendship Club
Helpers at the Coffee Dock.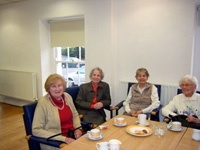 Meeting at the Friendship Club.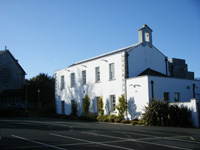 The Community Centre
as viewed from The Rise.