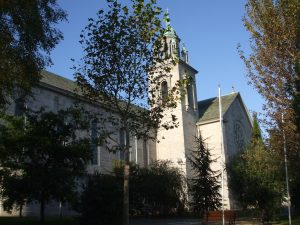 Mount Merrion is a vibrant Parish with over 300 volunteers serving in a wide variety of ways.
It is a welcoming community of over 2,800 households clustered around the Church on the hill.
Like many parishes of its age it has a good demographic mix of original residents and newer families. There are three primary schools and two secondary schools in the Parish which add hugely to its vibrancy.
The high level of involvement of lay volunteers in the Parish makes it possible to provide a range of services which are focused on meeting the diverse needs of different groups in our community.
Our Sunday masses try to cater for different age groups. See Masses.
At Christmas and Easter we are happy to welcome many less frequent visitors who join our services at these special times of the year. We seek to welcome everyone and invite you to join us whenever you wish.
Mount Merrion Parish is formally grouped with Kilmacud Parish and has recently also become associated with Clonskeagh Parish. Joint services and initiatives will be a feature of the three parishes in the future as we share our experiences and resources together.
Parish Vision

Secure in the belief that we are loved by God
to make love a reality in our homes, in our Parish and beyond
in a spirit of prayer and service