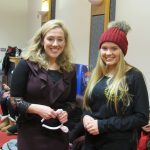 Just over forty dedicated members of the Mount Merrion Parish Junior children's choir started practising back in September to audition for the Late Late Toy show. Under the guidance and never-ending enthusiasm of Susanne, the Musical Director, the children secured themselves an audition in RTE in Donnybrook. They were one of 90 groups selected to audition from about 700!
On a Wednesday in mid-October the girls gathered in the Church wearing their Santa hats and painted snowflakes on their faces for one last rehearsal. Lots of excitement and nerves as they had a final run through of the songs. Susanne and the girls had a mash up to sing which included the Winter Song, Little Drummer Boy, Band Aid, Sleigh Ride, Hark the Herald Angels, Here Comes Santa Claus & Merry Christmas everyone! They'd also made up their own actions to go with it. They sounded amazing.
A convey of about ten cars headed down to RTE. The girls got to audition two of their pieces and performed amazingly well. Unfortunately, they didn't get through this year to perform on the Toy Show – but what an achievement to get as far as they did. Well done to all.